Mysore Style Practice, Pranayama, Anatomy, & Chanting
Schedule (September 16 – 18, 2022)
Friday (September 16)
5 – 7:30pm: WORKSHOP (Pranayama Level II)
Ideal for students who have some prior pranayama experience (but not required).
Saturday (September 17)
7 – 8am: Pranayama & Chanting
8 – 10:30am: Mysore
12 – 330pm: WORKSHOP (FINDING STHIRA AND SUKHAM IN ASANA)
Learn about two fundamental Yoga Sutras (II.46 & II.47) and their importance in our asana practice. This part-theoretical and part-practical exploration of postures will help you better understand movement and awareness of your body and mind. We will review:
1. The 4 Movements/Positions of the Spine
Flexion – PASCHIMATANA
Extension – PURVATANA
Lateral – PARSVA
Twist – PARAVRITTI
2. The Design of the Spine
3. The Interverbretal Disc
4. How to Modify a Pose to Make Practice Safe & Accessible
5. Common Injuries & How to Avoid Them
This workshop will deepen your understanding of the two yoga sutras and the applications in your body. It will also help you find more stability and comfort in your practice and/or teaching.
Sunday (September 18)
7 – 8am: Pranayama & Chanting
8 – 10:30am: Mysore
12 – 2pm: WORKSHOP (YOGA FOR CALMING THE MIND)
The mind is the main cause of our feelings, our emotions, happiness, and sorrow. Instead of identifying with these different parts of our selves, we learn to be with them. If you feel anxious, stressed or overwhelmed, this course is for you. Tara will share a small discussion on the mind and guide you through practices to help you regulate your mind and body. All are welcome. Q&A – 30 minutes
3 – 5pm: WORKSHOP (UNDERSTANDING THE MIND THROUGH YOGA)
To understand the mind allows us to see how we relate and interact in the different areas in our life. Yoga philosophy and sacred texts help us to piece the ideas together while we learn what lens we are looking through. We will discuss the influences on the mind, the obstacles, and ways to overcome all of these to bring us on a path to greater peace. Discussion, Chanting, and ends with a Meditative practice.
Cost:
Full weekend (2 days Mysore, Chanting & Pranayama +4 workshops) = €180
Morning Mysore, Pranayama, and Chanting (2 days) = €60 (drop in €40)
Sunday Afternoon both workshops = €50
Pranayama + Chanting Only (Friday night course + 2 mornings without mysore) = €60
Pranayama workshop (Friday evening) = €50
Sthira Sukham workshop (Saturday afternoon) = €50
Yoga for Calming the Mind = €30
Understanding Our Mind through Yoga = €30
Workshop Terms & Conditions
In case of cancellation by the customer, a full refund (less 10% administration fee) will be offered for cancellations up to 3 weeks before the workshop start date. After that date, no refunds can be offered. However, you can transfer your workshop place to another participant (and give us the details).
You can reserve your spot for the weekend by sending an email to eunice@ashtangayoga.ie. You will be given bank details for transfer. Once you've made the transfer, your spot is secured. Priority will be given to those regularly practicing in the shala.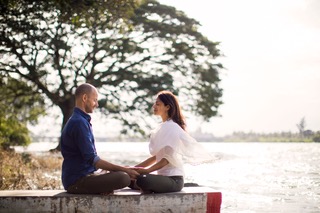 Dr. Rob
Rob has 25 years experience within the practice of yoga and natural healthcare. This includes a Masters Degree in Chiropractic. His courses draw on the many areas of study he has undertaken, as well as his personal yoga practice. This then gives the student a unique insight into how the body works. Within his courses, there is a continuous reference back to yoga. This includes how anatomy and physiology can be utilised to make the yoga practice not only safer, but also smarter. His aim is that through a greater understanding of the body one can better focus their efforts in their own practice. Rob is a long time Vipassana Meditator. He is also a student (10 years) of Sri O.P. Tiwariji, the leading pranayama expert in the lineage of Master Swami Kuvalayananda. Find more at morethanatomy.com
Tara
Tara has been a dedicated practitioner of yoga for over 17 years. She has been blessed to practice and apprentice under some of the most dedicated ashtanga teachers in the world. She has studied with Johnny Smith, Tim Miller (completing both his primary and intermediate series trainings), R. Sharath Jois, & R. Saraswathi Jois. She studied Pranayama with Sri O.P. Tiwari, Philosophy with Prof. Nagaraja Rao, Vedic Chanting with Dr. Vigneshwar Bhat, and Chanting in the Traditional lineage of Krishnamacharya with Madhavi Kotha.
Tara has apprenticed with only certified teachers over the years. She apprenticed with R. Saraswathi Jois for four years in her very busy Mysore shala. she assisted up to 200 students each month for nine months of the year. Tara is also a dedicated student of Traditional Yoga Therapy and is currently studying under T. Krishnamacharya & his son T.K.V. Desikachar's longest standing students in Chennai, India. Her interest in yoga therapy is a focus to help heal others from injury and imbalances within the body. She has helped many students return back to health and stability through yoga therapy.
She is known for her love of chanting and is a long time Vipassana Meditator. Both R. Saraswathi Jois (kpjayi Authorized), and her Yoga Therapy teacher, R. Lakshmi have given her blessings to share the teachings as taught to her through parampara. Tara does not take herself too seriously and teaches in a traditional yet playful manner incorporating the teachings of her teachers. Find more at www.taramitrayoga.com